Dermot Nolan
Master of Wine (MW) #230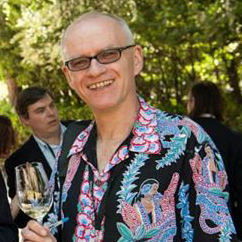 Hello, my name is Dermot Nolan and I am a Master of Wine, having passed the examination in 1997.
My life in wine
I started working in the Irish wine trade in 1990 when I took over the management of the wine shop attached to The Magic Carpet pub in Cornelscourt, south County Dublin. In 1989 I had already achieved the Wine and Spirit Education Trust of Great Britain's (WSET) Level 2 Certificate, and completed the Level 3 Higher Certificate in 1990.
In 1991 I started the WSET Level 4 Diploma in Wines and Spirits, achieving Honours in my first part as well as winning the Sherry Schlarship. In 1992, having completed Diploma, I was invited by The Institute of Masters of Wine (IMW) to attend their entrance examination, which I did in October that year. I passed and so, in January 1993, I attended my very first Course Day in Church Hall, Westminster.
When I sat the Examination for the first time in 1994, I passed the Theory but neither the Practical nor the Dissertation. In 1995, my Dissertation, Cooperage and the grape, was successful and in 1997 I finally passed the Practical, becoming Master of Wine (MW) 230! In 1994 I set up my own consultancy business, Dermot Nolan Wine Services, and have worked in various aspects of the trade since - education, buying, and retail being my main areas.
In 2005 I became the Diploma Administrator for the Wine Board of Ireland (WBI) and then took over complete responsibilty for this course when the WBI folded in 2009. In 2013 I started working with The Wicklow Wine Company, running the shop as well as working on the buying side. In 2017 I opened up my own shop in Dún Laoghaire, The Wine Library, which was great fun but, sadly, only lasted a year - great idea, wrong timing! Since then I qualified as a Failte Ireland National Tour Guide before returning to Wicklow in a consultative role in 2020.